Villa Details
Overview
These chalet style lodges with alpine style steeply pitched roofs and timber clad construction sit comfortably in the beautiful landscape. Linked by footpaths with the reception and restaurant there are also areas for outdoor eating and relaxation. Activities available from the hotel include a sauna and whirlpool massage and a kid's playground with slides and swings.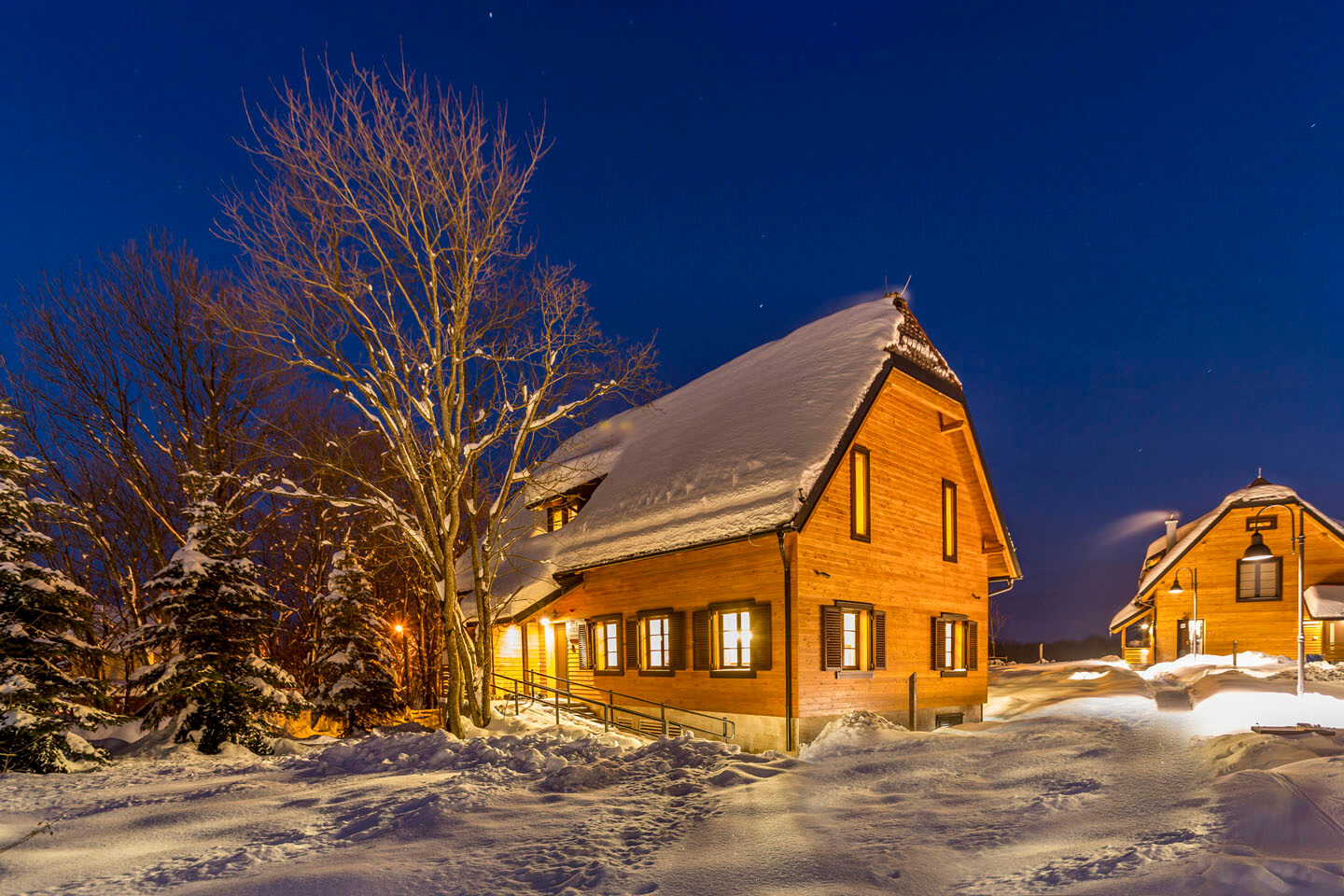 Accommodation
The accommodation comprises four lodges which have first floor bedrooms in the roof space and 14 bedrooms or suites. Doubles beds can be split into two single beds. One of the lodges and one suite have two bedrooms sleeping four persons. All the rooms have a warm interior with loads of timber panelling and wooden roof beams. Large picture windows provide expansive views across the national park and surrounding wilderness.
The buildings themselves have been renovated from a group of old barns and farm cottages and have been sensitively restored to retain the character and style of the original building but with every modern comfort inside.
Outside
Outside the hotel provides a well equipped children's play area with slides and swings and other play equipment. Bow and arrow shooting, darts, table tennis, table football and badminton are all available. In the nearby national park area there are numerous trekking routes and the hotel can arrange Nordic walking, cycle tours, bird watching and foto safari.
The hotel is located on the edge of Plitvice village just a few hundred metres from the National Park. Within the park there are marked trekking routes through the forests and beside the lakes and waterfalls. There are also boat tours across the larger lakes. Cycling is not permitted within the park itself but there are cycle trails through beautiful scenery to the north and south of the park boundaries. In winter time there is a small ski run in Plitvice. Just one lift and a fairly gently run. ski equipment can be hired.
In the surounding area there are other interesting places to visit such as the village of Rastoke which is 30 minutes from Plitvice.
Additional Information
Breakfast, parking and use of WiFi, included
Baby cot on request, included
Pets not allowed
2 hours drive from Zagreb airport - 150km
2 hours 10 minutes from Zadar airport -160km
2 hours 10 minutes from Rijeka airport - 145 km
---
About the area
Getting there