These places can be totally off the beaten track and only reachable by boat or by driving or cycling down unsurfaced tracks. But if you like swimming in nature where you can find solitude and beauty you will not be disappointed. If you book a villa with Croatian Villa Holidays we will of course share our knowledge with you so you too can enjoy these memorable experiences.
Today I am going to entice you with three spectacular swimming locations on the
Peljesac peninsula
. There are many great places to swim on
Peljesac
. The peninsula is barely on the tourist map but has some of the most beautiful and dramatic coastal scenery that can be found in Croatia. This long thin
Peljesac peninsula
, around 70 km in length, boasts numerous bays and inlets and a handful of delightful seaside villages.
I have picked out three of my favourites secret beaches.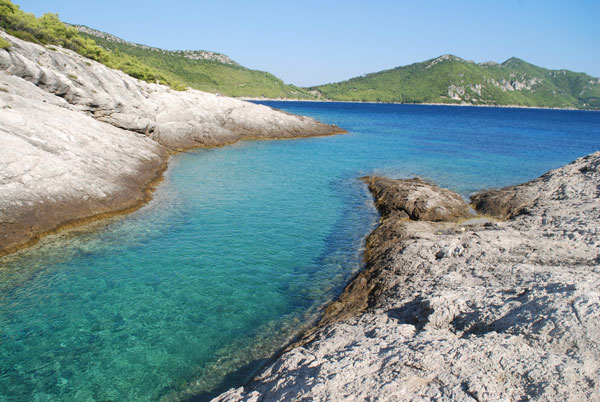 Wild Rock Swim:
Well away from any built up areas but reachable by a surfaced road except for the last section which requires a climb down a steep path. You come out on a small rocky promontory rock where to one side there is a narrow inlet with the most vivid blue/green water I have ever seen. So inviting, you will just want to jump straight in without delay. Getting in and out is a bit tricky as the rock sides are steep and you have to watch for sea urchins but you can dive straight into the two metres deep water.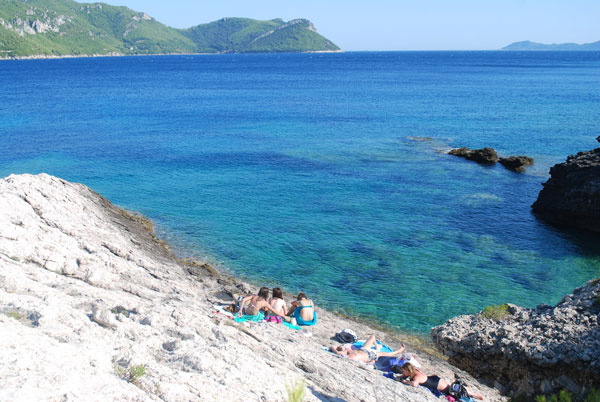 Swim here in full sun to marvel at the colour and clarity of the water.
On the other side of the rocky promontory is a slightly easier entry into a sheltered pool where you can stand in one metre on a sandy bottom and if you need a shady spot to relax you can clamber round the cliff to lie under an overhang that gives shade for most of the day.
You have full sun all day until late afternoon and the view is mesmerising. You will look out across a broad bay with a backdrop of wooded hills that tumble into glistening sea. The occasional boat will cross the bay but there is no human habitation in sight.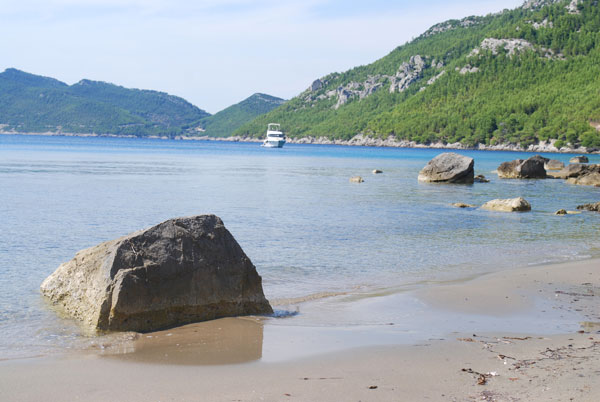 ​The Secret Beach:
The secret beach is reached only by boat or a 5km drive down a rugged unsurfaced track (steep in sections) which needs to be taken slowly and with care. Needless to say this is not a place where you will find crowds of tourists. For the last section you abandon the car and clamber down a steep path through a wood to emerge from the trees to cross a sand dune onto a wide beach with glorious golden sand. Sandy beaches are themselves relatively rare in Croatia and to find one so totally unspoilt and uncrowded is a unique experience. I say uncrowded but that gives the wrong impression. There have never been more than half a dozen people on this 200 metre wide beach when I have been there and some days you might find you have the beach to yourself.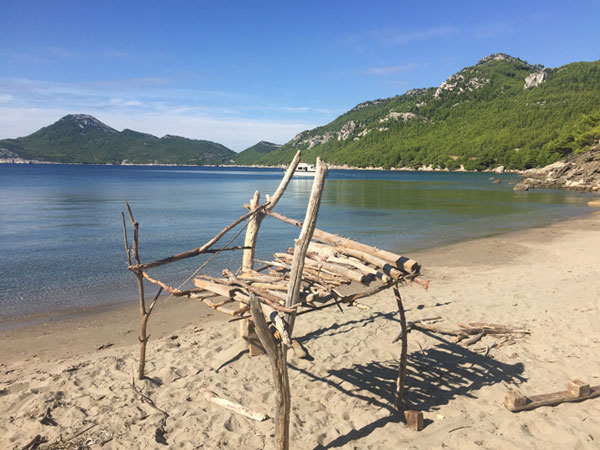 A few metres off shore there is a long low rock lying about half a metre under the surface and running the width of the beach. In shore from this reef the water is warm and the bottom sandy, shelving gently out to about 1.8 metres depth before reaching the reef. You can swim or walk over the reef but need to watch for sea urchins. So this is a beach where children and non swimmers can play or paddle in the shallow water and where the sand is fine and smooth on the water's edge. As if the beach was not enough the surrounding scenery is simply breathtaking. In front of you a curving bay extends out on both sides surrounded by wooded hills and small mountains and in the distance you can see islands. The beach is sheltered from most directions. Other than a few houses inshore from the beach - the remnants of an ancient village - there is not a town, village or even a single house to be seen. You can submerge yourself in the colours - every shade of green imaginable, the scintillating turquoise sea and the purest blue skies. If you walk out into the sea for a few metres and turn around there is an even more dramatic view behind the beach. The dense woodland stretches up the steep mountainside to the base of rugged cliffs and rocky out crops. There is not a path, track or road to be seen. Only glorious unspoilt nature set against the blue sky.
Divine Swimming:
My third choice is a gently shelving pebble beach tucked into a small curved bay whose entrance is protected to the north by an island.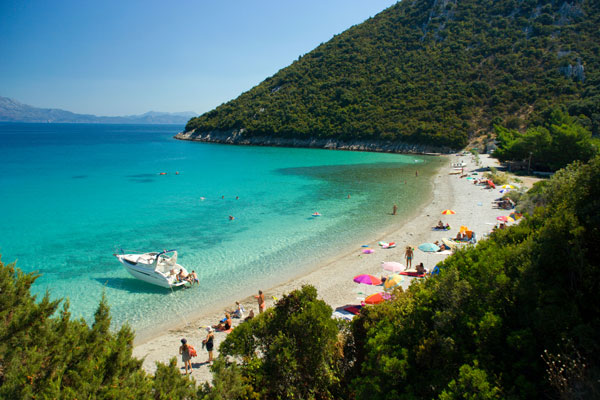 The pebbles are small and white but as always with pebble beaches it will be more comfortable for walking on the beach with flip-flops or rubber shoes. The water is sparkling clean and totally enticing.
Now this beach will be busier than the first two described as it can be reached by road and there is a campsite close by. But the nearest town or village is several kilometres away and considering the beauty of this place it is remarkably uncrowded. The benefit of having slightly more visitors is a beach cafe.
The beach, which is 200 metres across, is notable for its emerald green crystal clear water. The swimming is just divine and that indeed is the name of the beach, "Divna". The backdrop of heavily wooded hillsides falling steeply down to the beach and the pretty island just offshore create a perfect composition for photographers. This is also a great bay for yachtsmen who can anchor in the lee of the island and swim in the glorious water.