In a fast speed boat even the most remote islands such as
Vis
are easily reached. There is absolutely no better way to see Croatia's gorgeous coastline and to come home with wonderful memories.
A day out on a boat is exhilarating and we have no doubt that it will be the high point of your holiday. The private excursions that we can offer are by fast speed boat. You will have a boat for your exclusive use and your own experienced skipper. But you can set the pace and programme for the day with advice and guidance from your skipper. You will be able to visit some of Croatia's finest historic towns, such as
Hvar
or
Vis
, as well as delightful fishing villages. You will stop to swim in the prettiest coves and on the most unspoilt beaches well away from the main tourist crowds and moor up alongside a waterside restaurant to relax over lunch.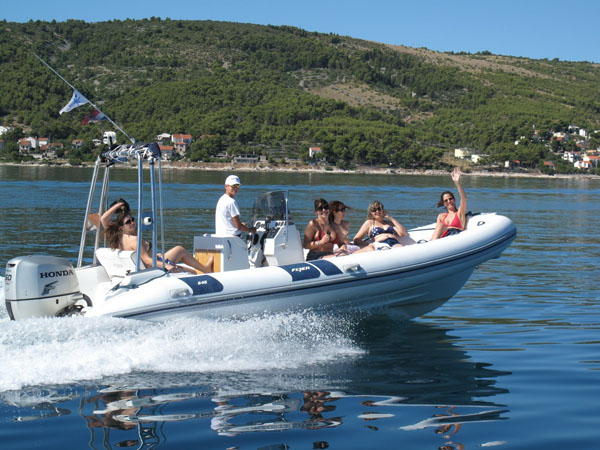 Price will depend on the size of group, the size of boat and the itinerary planned but generally will range from around €450 for the shorter trips and smaller groups to around €1000 for larger groups (up to 10 persons) covering greater distance.
These are some of the typical itineraries for a full day excursion:
Solta tour
Solta
is relatively undeveloped with two principal villages both set in attractive bays where you can stop to explore or to relax over a refreshing cool drink or over lunch.
Solta
has numerous attractive and sheltered bays, many which can only be reached by boat. They are perfect for swimming and sunbathing.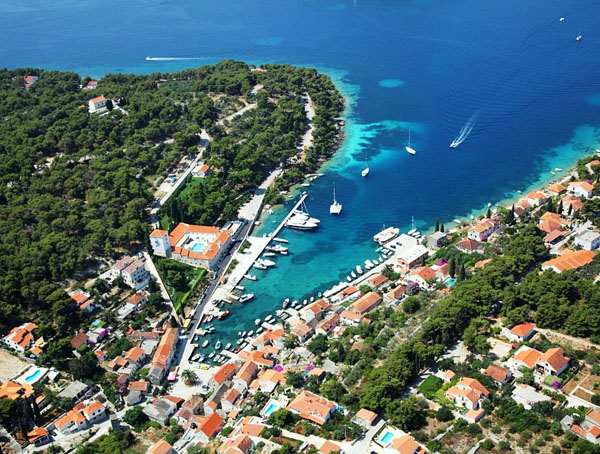 Brac island tour
A favourite for holiday makers who are staying on
Brac
. This trip will take you on a full circuit of
Brac island
stopping at the prettiest villages and harbours and for swimming in the most attractive bays and from the best beaches. You will visit the cute village of
Bobovisca
in a deep bay and the delightful harbour of
Milna
where you can also view the 2nd World war submarine tunnels. You will pass the famous Golden Horn beach nrea
Bol
, where you can stop to swim and the much photographed Dominican Monastery rising almost directly from the sea. Lunch will be at a delightful restaurant in a quiet cove that is only accessible by boat. In the afternoon you will have time to visit two or three other pretty villages and to stop for a refreshing swim at the sandy beach at Lovrecina.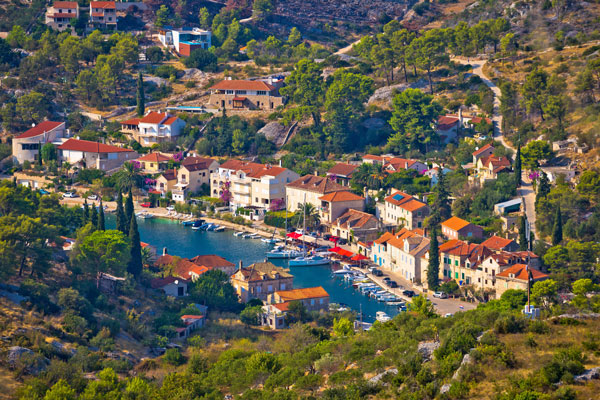 Hvar and the pakleni islands tour
Hvar
is one of the most beautiful and most fashionable towns in Croatia with wonderful Italianate medieval architecture and perhaps the finest town square in Croatia, surrounded by renaissance palaces. Also fronting the square is the 17th century theatre and Venetian loggia. Narrow streets with old houses and villas radiate away from the town square while lively restaurants and bars are another attraction. The harbour front with its cocktail bar and cafe lined Riva overlooking spectacular yachts at anchor in the bay is a great place to relax over a glass of wine or a cool beer.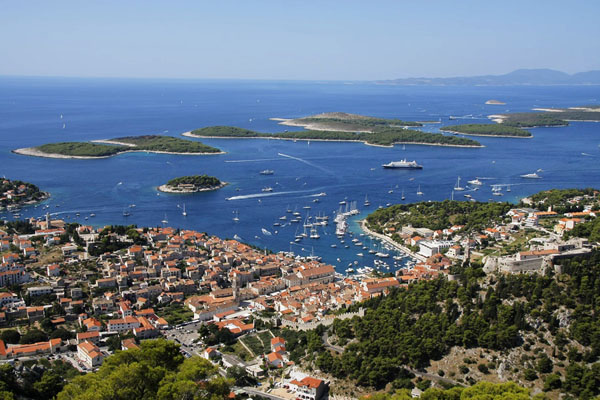 After sightseeing in
Hvar
you will move onto the
Pakleni otoci
, an archipelago of seven large islands and many smaller islands. Here you will anchor in one of the beautiful bays to swim and sunbathe . We recommend going ashore for lunch at the totally magical Meneghello restaurant at Palmizana. We can ask the tour provider to book you a table in advance.
Vis tour
Vis
is the most distant from the mainland of the larger Croatian islands. The ferry service from the mainland is infrequent and the crossing long so you won't find day trippers here. A private excursion by fast speed boat is the perfect way to see this exquisite and unspoilt island. The tour will take in a stop in
Vis town
, situated in a sheltered bay which forms a wonderful natural harbour.
Vis
is an elegant town with plenty of history and an excellent selection of cafes and restaurants. You will explore some of
Vis Island's
beautiful bays and beaches where you can stop for swimming and sunbathing. Notable of these are the delightful sandy beach in Stoncica bay and the breathtaking Stiniva Cove entered through a narrow opening between cliffs to reveal the most perfect beach. If time permits you will also visit
Komiza
an authentic and atmospheric fishing village where little has changed in hundreds of years.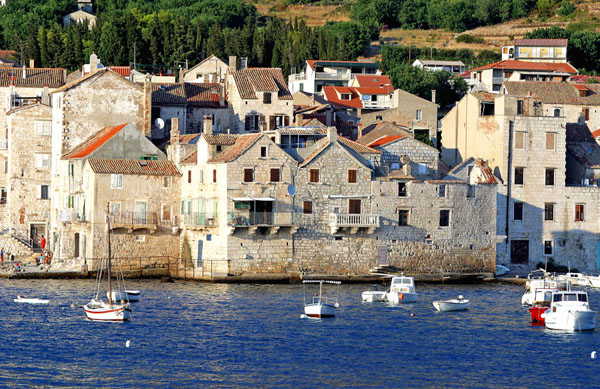 Vis and the Blue cave
This tour takes in as much of
Vis
as time permits but extends to the small island of Bisevo where you will transfer to a rowing boat to enter the Blue Cave. In this water level grotto you will see the vivid iridescent blue glow in the interior of the cave that is created when the sun shines through an underwater opening to create a truly memorable experience.
Contact Croatian Villa Holidays for more information on private excursions by boat in Croatia.