Last Updated - 15 October 2021 - 11:00 hours
UK travel restrictions for travel to Croatia.
With effect from 4 October 2021 the Green and Amber list classifications have been scrapped. There remains a Red List of higher risk countries but the rest of the world falls into the same category where minimal restrictions apply on return to the UK. Croatia is not on the Red List and had been Green List before the Green and Amber classifications were removed.
If you have been fully vaccinated you can return from Croatia to the UK without the need for a pre-departure test. There are no self-isolation requirements on return but you still need to have pre-booked a day 2 PCR test. From 24 October 2021 the day 2 test can be the cheaper Rapid Antigen test rather than a PCR test.
Fully vaccinated means having had two jabs with the second jab being given at least 14 days before arrival back in the UK.
If you are entering Croatia from the UK you must be able to show either a negative COVID test or a vaccination certificate on arrival in Croatia.
Rules can change at short notice. When infection rates in the UK were climbing in summer 2021 the Croatian authorites at short notice required arrivals form the UK to have a negative COVID test result regardless of whether they were double vaccinated. This requirement was dropped at the beginnig of October so the vaccination certificate is once again all that is required.
Slovenia and Montenegro.
If you plan to visit the neighbouring countries of Slovenia and Montenegro both countries are now in the Rest of the World category meaning that return to the UK does not require quarantine or self isolation. Montenegro had been on the Red List but was removed from this list with effect from 11 October 2021.
Red List:
arrivals from Red List countries will be required to undertake a 10-day stay in a managed quarantine hotel (at their own expense) as well as taking a pre-departure test and mandatory PCR testing on day two and eight of the quarantine period.
Pre-departure tests - additional information about tests for returning to the UK from Croatia.
The pre-departure test (required only if you are not fully vaccinated) can be a PCR test or a rapid antigen test but the test must meet performance standards of ≥97% specificity, ≥80% sensitivity at viral loads above 100,000 copies/ml specified by the UK government. It's your responsibility to ensure the test you take meets the minimum standards for sensitivity, specificity and viral load details. You must check with your test provider that it meets those standards.
The test must be taken within three days (72 hours) of the time at which your flight back to the UK departs. You will need to have a negative test available to show at the time of boarding.
Day 2 Test
Before returning to the UK from a Rest of the World (formerly Green List) country you will need to pre-book a day 2 COVID test. Until 24 October 2021 this test needs to be a PCR test and after that date can be the cheaper Rapid Antigen Test. The booking reference number needs to be entered on the Passenger Locator form (see below)
Passenger Locator Form
You should complete the on line
passenger locator form
before returning to the UK whatever country you are returning from and you will need to enter your pre booked day 2 COVID test reference number on the form.
Can I get a pre-departure test in Croatia and how much does it cost?
You will only need a pre-departure test if you have not been fully vaccinated. There are COVID test centres in all the major tourist destinations in Croatia.

Cost for a test will vary between different test centres. The cost for a PCR test is typically around 60 euro or £50 with an additional charge for translation to English. Rapid antigen tests are likely to cost from 30-35 euros per test. An additional charge may apply if you require a translation of the certificate into English.

The test you take can be a PCR test or a rapid antigen test but the test must meet performance standards of ≥97% specificity, ≥80% sensitivity at viral loads above 100,000 copies/ml.

It's your responsibility to ensure the test you take meets the minimum standards for sensitivity, specificity and viral load details. You must check with your test provider that it meets those standards.

If you book a villa through Croatian Villa Holidays we will provide you with information on the location of test centres near your accommodation.
Restrictions applying to tourists arriving in Croatia
Croatia accepts all foreign tourists.

If you are travelling from within the EU you can enter Croatia with the EU digital COVID certificate. If you are an EU citizen but do not hold an EU digital COVID certificate or you are travelling from anywhere outside the EU other than South Afroca, Tanzania and Brazil you can enter Croatia provided one of the following certificates can be shown on entry:
A negative PCR test dated no more than 72 hours before arriving in Croatia or a rapid antigen test dated no more than 48 hours prior to arriving in Croatia. For the rapid antigen test the manufacturer's name must be visible and the test must be included on the EU common list of approved EU rapid antigen tests. and subsequent amendments.

A certificate, not older than 270 days, showing that you are fully vaccinated and have had your second vaccine at least 14 days prior to arriving in Croatia (with Johnson and Johnson vaccine a single jab is enough).

A certificate showing that you have received the first dose of the Pfizer, Moderna or Gamaleya vaccine, on the basis of which they can enter Croatia in the period of 22 to 42 days from receiving the vaccine, or 22 to 84 days from receiving the first dose of the AstraZeneca vaccine.
A certificate issued by a doctor confirming you have recovered from COVID not more than 180 days and not less than 11 days prior to arrival in Croatia together with a certificate showing that a first vaccination jab has been received. .
Children under 12 don't need a negative test if their parents satisfy one of the above requirements.

The Croatian authorities will not accept the Indian-made version of the AstraZeneca vaccine produced by the Serum Institute of India (SII). Up to five million doses of this version of the vaccine have been administered in the UK and are identifiable by the vaccine batch numbers (4120Z001, 4120Z002, 4120Z003) included on the recipients' paper vaccine cards and in the Covid travel pass available via the NHS app. If your vaccination was from these batches you will need to take a test before leaving for Croatia so you can show a negative result in accordance with 1, above.

If you arrive in Croatia without one of the certificates listed above you can take a test on arrival and must then self-isolate until you get the results.
Other conditions for entry to Croatia.
If you are travelling from outside the EU you must have an economic interest for wishing to come to Croatia. This includes having pre-booked holiday accommodation. Holiday accommodation includes hotels, villas and holiday homes, apartments, camp site pitches and charter yachts. You will need to be prepared to show documentation at the border that you have pre-booked accommodation.

If you are travelling from within the EU you do not need to have pre-booked your accommodation. Only the COVID certificates listed above are required.
If you want to obtain an official confirmation of rights to entry for your specific circumstances you can go to this link on the Ministry of the Interior website to submit a request. We have been asked by readers of this blog to provide guidance on how this form should be completed. So here goes:
On opening the Ministry of the Interior (MUP) website page you will have the opportunity to select a language in which to complete the form; English, Croatian or German. Select a language and a new page will open with Questions and Answers. Scroll down to the bottom of this page and there is a form to complete to submit a question:
Enter Croatia form.
The Croatian authorities introduced (29/05/2020) an online form which can be completed with all your travel and accommodation details. You can complete this form in advance and submit it online. The data will be stored and can be matched with your passport details when you enter Croatia. This will speed your entry at the border. The form can be found on this link: Enter Croatia form. This takes you to a page where you can select the language in which you want to complete the form. You can select one of ten languages. These include English, German, French, Italian, Polish and Croatian. The information you will need when you complete the form is:
The reason for Travel: select Tourist or as appropriate from the drop down list

Starting country: select from the drop down list the country you are travelling from

Valid From and Valid to: these are your arrival and departure dates in Croatia

Lead Person in your group: name; date of birth; phone number; document type (eg passport), document number and issuer.

Citizenship

Email address

The same details for each member of your party which you add by clicking on the plus sign

For each person you will be asked to answer yes or no to the following questions about COVID-19

Have you suffered from COVID-19? (replaces 'Have you recovered from COVID-19' in an earlier version of the form)

Have you travelled outside your county of residence in the last 14 days?

Are you under self-isolation in your country of residence?

Have you been in contact with a person who has recovered from COVID-19?

Details of you accommodation: name of accommodation; location; full address; dates of stay at the accommodation.
After submitting the form you will receive an email acknowledgement.

All travellers should complete this form.

We have received many reports of tourists entering Croatia without being asked to show the form however we recommend that you complete it as it could speed your passage at the border.
Complete the
Enter Croatia form
.
​Email alerts.
As well as regularly updating this post we will send out email alerts when there is a significant announcement about travel restrictions or the opening of borders.
Sign up to receive our email alerts.
Social distancing measures in Croatia
On 23 July 2021 the Croatian government introduced new measures that restricted social gatherings. Gatherings in one place of more than 50 people without a COVID vaccination certificate are prohibited and the maximum number of people gathering in one place who have COVID certificates is limited to 1,000. These measures are expected to remain in place until 15 August.

Limits on the number of people attending weddings have been re-introduced. A wedding gathering of up to 15 persons is permitted without COVID certificates. If the gathering is for more than 15 all guests must have a negative test certificates.

Face masks should be worn on public transport and in shops.
COVID levels in Croatia.
Statistics for 5 October 2021:
Number of active cases in Croatia: 8,813
Number of reported cases since the start of the pandemic: 411,917
Number of deaths in Croatia since the start of the pandemic 8,722
At 1 October 2021 the 14 day infection rate per 100,000 population in Croatia was 394.04. This compares to 643.48 in the UK.
COVID-19 cases by region as at 5 October 2021:
Istria county
(includes the coastal resorts of
Pula
,
Rovinj
and
Porec
): Currently 101 active cases.
Primorsko-Goranska County
(incudes the city of Rijeka and the coastal resort towns of
Opatija
and
Lovran
and the islands of
Rab
and
Krk
): 514 active cases.
Licko-Senjska County
(includes much of the coastline between Rijeka to
Zadar
and the
Plitvice Lakes National Park
): 105 active cases.
Zadarska County
(
Zadar City
and surrounding coastal towns): 200 active cases
Sibensko-Kninska County
(includes
Sibenik
and
Primosten
on the coast and the
Krka National Park
): 160 active cases.
Splitsko Dalmatinska County
(includes
Split
and
Makarska
and the central Dalmatian islands): 1211 active cases.
Dubrovacko-Neretvaska County
(includes
Dubrovnik
,
Cavtat
, the
Peljesac peninsula
and the
Neretva delta
): 272 active cases.
Source:
www.koronavirus.hr
Social distancing rules in Croatia
Face masks must be worn in shops and on public transport including ferries. Restaurants and cafes are open but you must sit outside. National parks and most tourist attractions are open but some social distancing rules may apply.

European Health Insurance Card
UK citizens should note that the European Heath Insurance Card (EHIC) has not been valid since 1 January 2021. You must apply for a UK Global Health Insurance Card (GHIC). This will entitle you to access state-provided healthcare during a holiday in Croatia and other EU member states.
You are entitled to a GHIC card if you are ordinarily resident in the UK. Information about applying for a card can be found on this website:
apply for a GHIC card
.
TRAVEL INSURANCE
We always advise taking out travel insurance at the time you book your flights or accommodation. It is all the more important now to check the small print of your policy to be sure what cover you have in case you have to cancel your holiday due to coronavirus.

Since the World Health Organisation declared coronavirus a worldwide pandemic on 11 March 2020 many travel insurance companies have withdrawn cover for any claims relating to coronavirus on any new policies that they write. Check your policy terms.
Villas better than hotels
A villa rather than a hotel holiday will be a good choice as if there are still distancing measures in place and risk of infection you have much greater privacy and distance from non family members if you are staying in a villa.
Secluded villas
If you wish to be ultra-cautious you can pick one of our secluded villas and keep well away from crowds and other holidaymakers. View our secluded villas.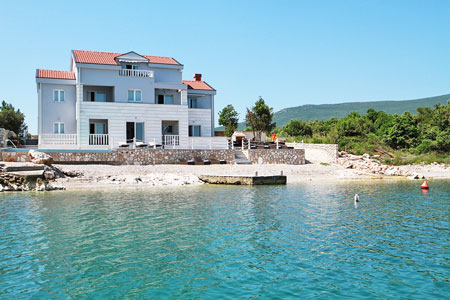 Book a villa holiday now!
Search for a villa that suits your needs from our selection of over 500 hand-picked villas in Croatia. Browse our villas. Or call us on +44 1494 671359 for advice and guidance. We are happy to talk.

For email alerts when important announcements about travel to Croatia are made sign up here
If you have found this blog page useful please 'like us' and write a review on Facebook or review us on Google.
Facebook
Post a review on Facebook.

Google review
In order to post a review on Google you must first be logged in to your Google account if you have one. Then do a Google search for CroatianVillaHolidays. The results will display a box on the right (Google knowledge graph) with details about the company. Select the "Write a review" button in the Reviews section.

We appreciate your support.

Latest Updates to this post:
4 October 2021. Green and Amber travel lists scrapped
25 July 2021. Croatia required negative test for entry from UK, Russia and Cyprus regardless of full vacination
14 July 2021. Croatia added to Green list
27 June. Green List and data update
11 June: data updates
3 June 2021: BBC reports that there will be no additions to the Green List with the June 7 review
28 May 2021: relaxation of social distancing measures in Croatia
22 May 2021: Statistics update
9 May 2021: Croatia on UK Amber list
5 January 2021. Latest COVID Statistics and latest Croatian border restrictions
10 October 2020. Latest COVID statistics
22 August 2020. Croatia removed from UK travel corridor and 14 day quarantine required
13 July 2020: Requirement for pre-booked accommodation no longer required for EU/UK/Schengen area nationals
12 July 2020: Croatian Government imposes new entry restrictions. Non-EU/non-UK nationals entering Croatia must have negative COVID-19 test.
03 July 2020: The UK government's travel corridor list includes Croatia. No quarantine requirement on return to the UK from 11 July.
03 July 2020: The UK FCO exempts Croatia from its global travel warning with effect from 4 July
26 June 2020: We are able to report that US citizens flying from the USA to Zagreb were admitted entry to Croatia
7 June 2020: Transit across Austria into Croatia permitted for tourists from Germany, Switzerland, Liechtenstein, Hungary, Slovenia, the Czech Republic and Slovakia.
5 June 2020: Border Police Directorate have stated that visiting Croatia to stay with friends is not a valid reason for entry
5 June 2020: Citizens of ten specified countries can enter Croatia without any restriction
5 June 2020: The Enter Croatia online form is now in multiple languages.
29 May 2020: New online Enter Croatia form to be completed in advance of travelling to Croatia
28 May 2020: Guidance on completing the form to request confirmation from the Ministry of the Interior that entry to Croatia will be permitted
21 May 2020: Confirmation from Border Police Directorate that borders are open to non-EU citizens as well as EU citizens
18 May 2020. Croatian borders open to tourist with evidence that they have accommodation arranged
11 May 2020: Foreign citizens permitted to enter Croatia for business
The content of this web page is for information only and we believe is correct as at the time of writing. However, as this information is subject to change at short notice, we highly recommend you check official government advice for up-to-date information.