A summary of the pros and cons of travelling to Croatia by car
Disadvantages
Time. At least two days in each direction
Advantages
Make a holiday out of the journey - expand your experiences.
Potentially a cost saving for family groups.
If COVID infection remains an ongoing issue avoid the risk of infection on aircraft and in busy airports.
No need to hire a car when you are there.
You can take more luggage with you (and back!) and don't have to worry about baggage allowances.
How long does it take?
If travelling from the southeast of England to
Istria
or
Northern Dalmatia
(the nearest parts of Croatia) you should allow for one night's stop on the way. It is at least 15 hours at the wheel once you have arrived in France. So allowing for some refreshment stops, for border crossings and for some travel time in the UK, you must plan for nine or ten hours a day on the road.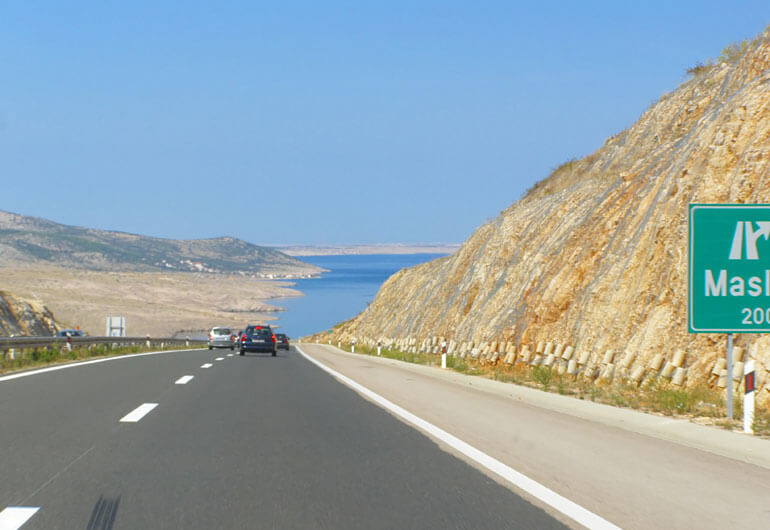 In 2020 I drove down with my daughter and her eight month old baby and, as we felt that five or six hours a day in the baby seat was as much as we wanted to impose on the little one, we stopped for two nights on the way. If you are travelling further south to
Dubrovnik
you may also need to consider two nights as it will add another five hours of driving time to get all the way to
Dubrovnik
.
So there and back is quite a time commitment but can enrich your holiday experience if you plan your stops carefully and allow enough time to get out of the car and see and enjoy the places where you stop for the night. It is worth researching places to stop. I will give a few suggestions based on my own experience.
Which route to take?
There are several options for the first half of the journey. Crossing the channel by the tunnel or ferry and Calais will be your starting point. From there you can travel through France before entering Germany or you can take a route further north through Belgium and spend more time on the German motorways. There are several possible routes all very similar in terms of time and distance so the route you choose might be determined by the places where you would like to stop for the night.
The German motorways tend to be busier but are free while in France you pay tolls.
Ultimately on either route you are going to end up in the south of Germany skirting Munich before crossing into Austria, skirting Salzburg and Villach before entering Slovenia where you will bypass Ljubljana and from there your route will depend on where in Croatia you are heading.
If you are holidaying in
Istria
- the most north westerly part of Croatia - there is another option which is to drive down through France, cross into Italy through the Mont Blanc tunnel and then turn east towards Venice and Trieste on the Italian motorways before crossing through Slovenia and entering Croatia. This route will most likely be a bit longer in time and miles but opens up the possibility of a stop in the Bordeaux region (perhaps to stock up on wine on your return journey), in the Alps or for a day or two in Venice.
Relative Costs
I have carried out a cost comparison for a family of four travelling to
Pula
in
Istria
and spending one night each way on the journey. Departing 16 July and returning on 25 July. I assume travel through France from Calais by via Reims and Metz and entering Germany on the D4 just west of Baden Baden (this is the shortest route - 1580 kilometres).
Cost of Driving for a family of four spending one night on the journey in each direction
| | | |
| --- | --- | --- |
| | Price details* | Cost |
| Eurotunnel | Out on 16 July and return on 25 July | £182 |
| Fuel costs | 1580 km each way | £300 |
| French motorway tolls | From sanef website | £40 |
| Overnight accommodation | Ibis hotel in Ulm centre. 2 rooms (double or twin) 2 nights | £195 |
| Motorway Charges (Vignettes) | €9.40 for Austria and €30 for Slovenia | £36 |
| Karavanke Tunnel Austria | Toll €7.50 x2 | £14 |
| Croatian motorway toll | Umag to Pula 46 kuna each way | £11 |
| TOTAL | | £771 |
Cost of Flying for a family of four staying for a week 17-24 July and hiring a car
| | | |
| --- | --- | --- |
| | Price details* | Cost |
| Flights | Easy jet to Pula for 4 persons with three 23 kilo bags. Flying out from London on 17 July | £519 |
| Car hire 17-24 July | VW Polo (price quote on line from Sixt through Holiday Autos | £230 |
| Airport parking | Gatwick long stay | £70 |
| TOTAL | | £819 |
*All online prices were taken on 13 December 2020
On this comparison driving comes out £48 cheaper than flying. I have not included the cost of food on the journey however if you take a cold bag with drinks and sandwiches or eat cheaply it should not cost much more than if you were feeding yourself at home for the extra days.
If you are heading further south to
Split
or
Dubrovnik
petrol costs will be higher and you may want an extra night on the way but flights to
Dubrovnik
also tend to be more expensive than the flights to
Pula
that I have quoted. Flight costs can vary considerably depending on the time when they are booked.
Driving down will cost more if you want to create a memorable experience out of the journey and stay at nicer hotels than the basic Ibis that I have priced up, eat in interesting restaurants and take time to see the places you have stopped in.
If you can afford it, it really is worth paying a bit more to make the journey a special part of your holiday.
Where to stay on your journey
To give yourself enough time enjoy the places you are staying in will generally means selecting places to stop which are not too much of a diversion from your route. When you look for them there are any number of interesting places to stop within 10 minutes from the motorway.
Here are a few ideas.
Aachen (
Germany).
Only three and a half hours drive from Calais (347 km) but ideal if you have made an afternoon crossing and are taking the northern route through Belgium and want to drive for a few hours before your first stop.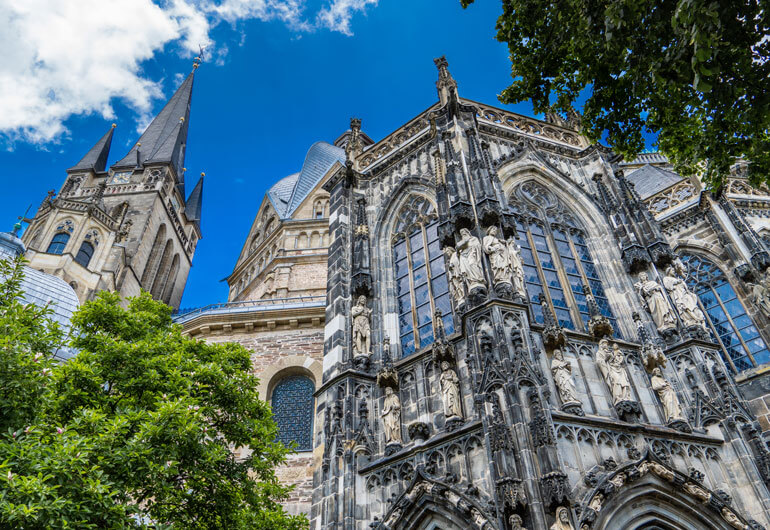 You can approach the city from the North from the E314 (recommended ) or from the south on the E40.
The distances are similar. It's a short diversion from the E314 motorway to the City centre
.
Stay as close as possible to the centre of this ancient city where you can wander out to eat in one of the many restaurants in the busy squares of the old town and the next morning allow yourself an hour to visit Aachen cathedral which houses the shrine of Charlemagne, who was buried there in 814 A.D. There is also a fine baroque town hall, We have stayed in the
Mercure Hotel Aachen am Dom
which was perfectly adequate, has car parking 50 metres from the hotel and is convenient for a stroll into the old town.
Ulm (Germany)
Seven and a half to eight hours from Calais, Ulm is well located if you made an early start from the UK. And it is only about 7 minutes from the motorway to the centre of the town.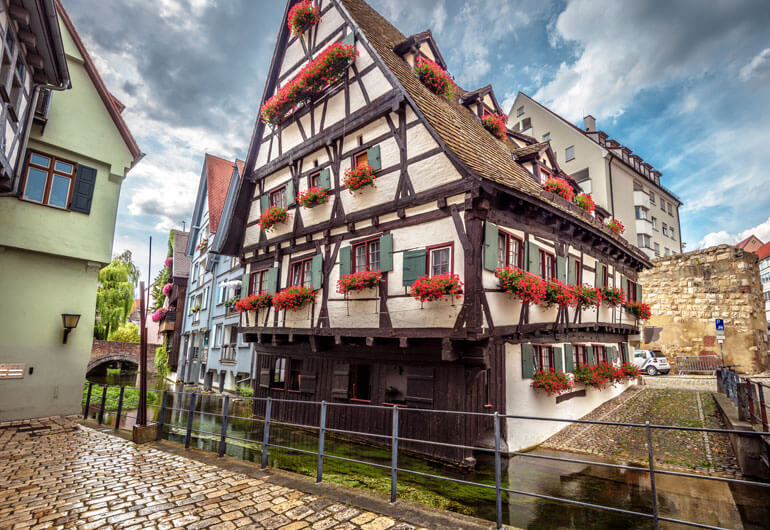 Ulm is situated on the River Danube and before setting off the next morning you can take a refreshing walk along the river and through the
Fischerviertel
(fishermen's quarter) an ancient quarter of cobbled streets, footbridges over the river Blau (a tributary to the Danube) and charming old half-timbered houses. Take note of Ulm Minster, the gothic church notable for having the tallest church steeple in the world at 161.53 metres (529.95 feet).
Ulm was the birthplace of Albert Einstein. If you need to keep your costs down there is an Ibis hotel close to the centre. For something more memorable stay in the
Schiefes Haus hotel
to capture the atmosphere of the medieval quarter and walk out into the historic heart of the town.
From Ulm it is about 8 hours driving to the Croatian coastline in
Istria
.
Bad Aisling (Germany)
This pretty spa town in southern Germany is 6km north of the motorway, so not too far off the route, and about 9 hours driving time from Calais (1,036 km).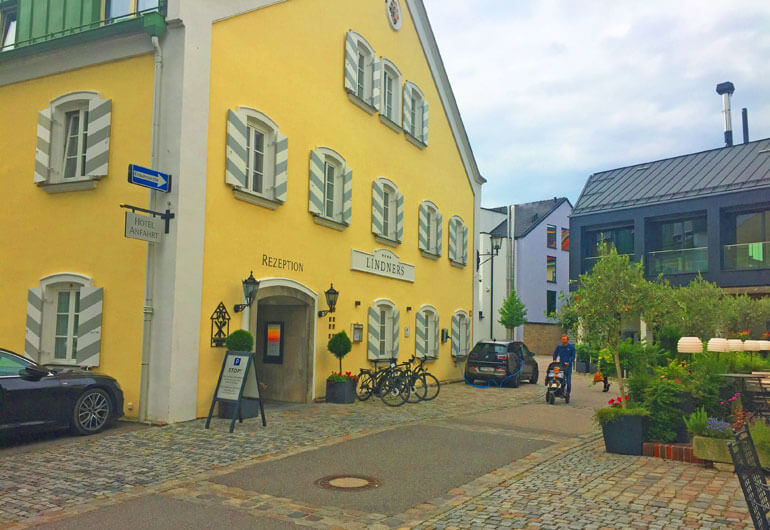 It is south of Munich about 50 minutes from the Austrian border. We recommend the
Das Lindner Hotel
a delightful boutique hotel in the centre of town. There are dozens of restaurants all around. Pick up some bread rolls for your journey the next morning from the local bakery just round the corner.
The hotel has two buildings. The rooms in the old building are comfortable and characterful. The rooms in the new building are more expensive, modern, stylish and spacious and rank among the very best hotel rooms we have stayed in.
France and Italy route
Beaune (France)
Beaune, just 5 minutes off the E15/A16 motorway at junction 24.1 and just over 5 hours drive from Calais, is at the heart of the Burgundy wine region.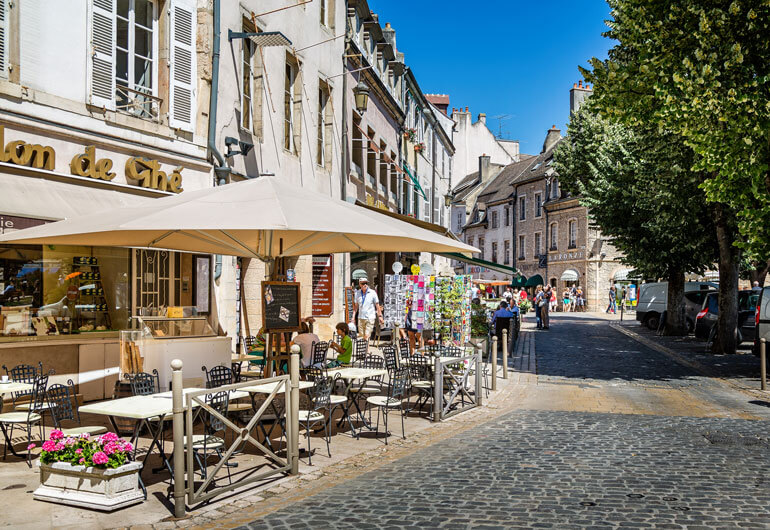 This absolutely gorgeous and beautifully preserved historic provincial town is a honeypot for fine wine and superb restaurants including three with Michelin stars. There are Mercure and Novotels on the edge of town and several exquisite boutique hotels in the centre of the old town.
Chamonix (France)
The French skiing and climbing centre of Chamonix is 900km (about seven and a half to eight hours driving time) from Calais and just 3km off the motorway immediately prior to entering the Monte Blanc tunnel.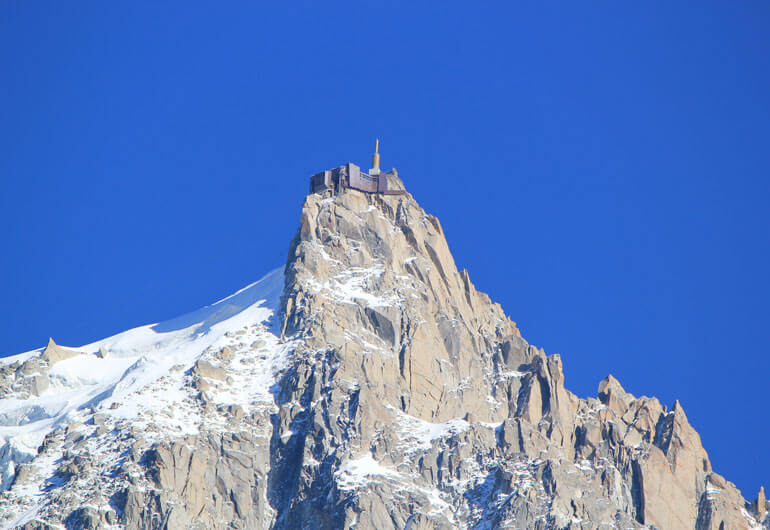 It's a great half way stop as you will be left with another seven hours' drive (700 km) to the Croatian border. Stay two nights and take the cable car up to the Aiguille du Midi which at 3,842 metres (12,393 feet) is the highest cable car in Europe. From the Aiguille du Midi top station you can take the Panoramic Mont Blanc cable car to Pointe Helbronner in Italy (3466m); a truly stunning gondola ride over the Vallée Blanche and Glacier Géant glaciers. It's not cheap but it's totally memorable. Check prices and weather forecasts.
Croatia
If you are staying in
Istria
(resorts such as
Porec
,
Rovinj
and
Pula
) or the
Kvarner Riviera
(
Opatija
, Rijeka and the islands of
Cres
,
Krk
and
Pag
) you will probably want to drive directly to your destination. If you are heading south to
Split
or
Dubrovnik
there are some opportunities to break the journey on the way.
Following the motorway route through Austria and crossing into Croatia south of Villach the motorway continues bypassing Ljubljana and heads towards
Zagreb
. The quickest route to the Dalmatian coastline is to turn off the motorway at Novo Mesto vzhod and follow an off-motorway route for about 60km (1 hour) crossing the border from Slovenia into Croatia at Metlinka and then joining the A1/E71 motorway towards
Split
.
Journey breaks in Croatia
If you are heading for a seaside holiday but want to experience another aspect of Croatia we highly recommend a visit to
Plitvice Lakes
.
Plitvice Lakes National Park
Rather than staying on the motorway south towards
Split
when you re-join the E71/A2 turn north towards
Karlovac
and then turn off into
Karlovac
itself and follow signs for the A1 towards Plitvicka Jezera (
Plitvice Lakes
).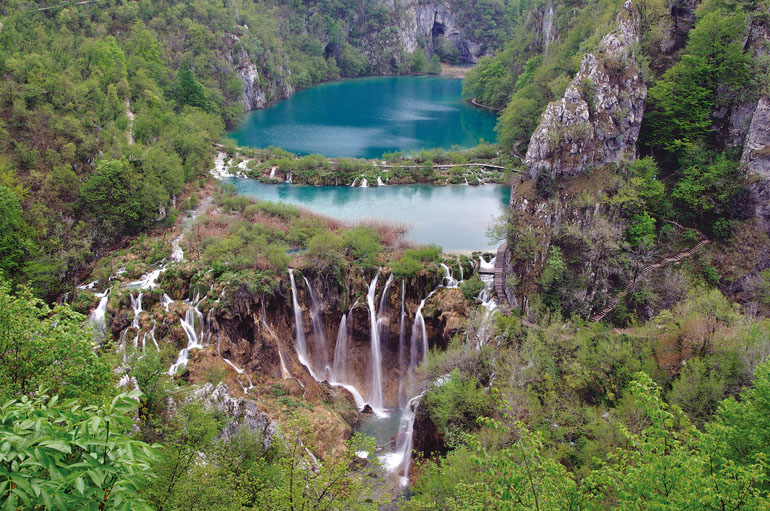 A one and a quarter hour drive from when you re-join the motorway will bring you to Croatia's most stunning and famous
Plitvice Lakes National Park
. It's 16 lakes which cascade dramatically from one to the next can be explored by walking trails and boat trips. You will need to stay two nights to allow a full day in the
Plitvice Lakes National Park
and it is essential to book tickets for entry in advance. For accommodation we recommend the
Fenomen Boutique Hotel
which can be booked through our website.
Motorway stops in Croatia
The motorway to the south passes through dramatic landscapes of mountains and vast expanses of wilderness.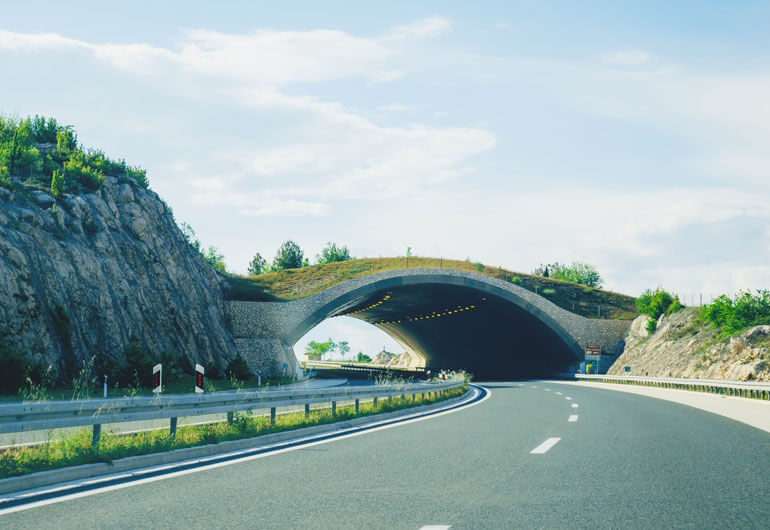 Take note of the green bridges (pictured) which provide a safe route for wild animals whose habitat has been divided by the motorway.
Approaching
Zadar
the motorway provides stunning views of the coast as you emerge from the mountains. Traffic levels are relatively low and the road surface good so it will be a relaxing and enjoyable drive.
Our recommendations for places to stop for rest or refreshment are:
Birthplace of Nikola Tesla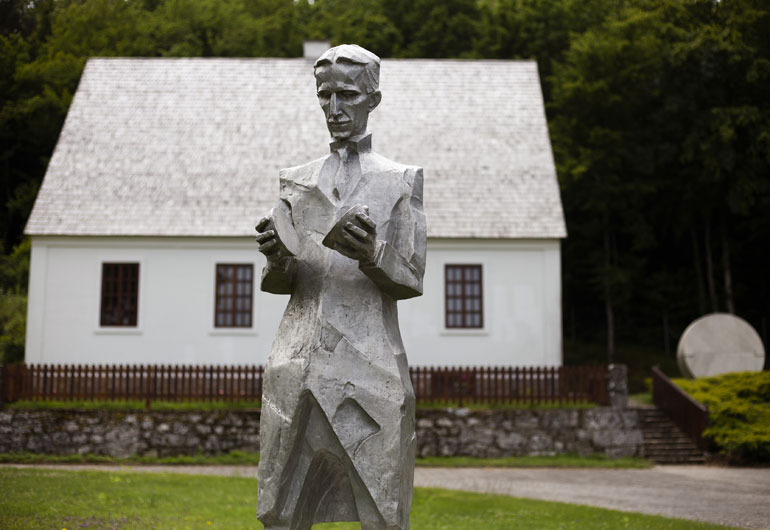 Nikola Tesla, who discovered the alternative current (AC) electricity system that is now used worldwide for transmitting electric power, was born in the village of Smiljan in 1856.
The house in which he was born has been restored as the focal point of the Nikola Tesla Memorial centre which contains a museum and demonstrations of Tesla's system of wireless transfer of electrical energy. The centre is 11km from junction 12 on the A1/E71 motorway and one hour 45 minutes' drive (164km) from the Slovenian/Croatian border at Metlika. A must for engineers and physicists!
Stop for a swim
Just over two hours drive time from the Croatian border at Metlika the motorway winds its way down out of the mountains towards sea level and you will get your first glimpse of the shimmering blue Adriatic sea. You will want to jump straight in and you can!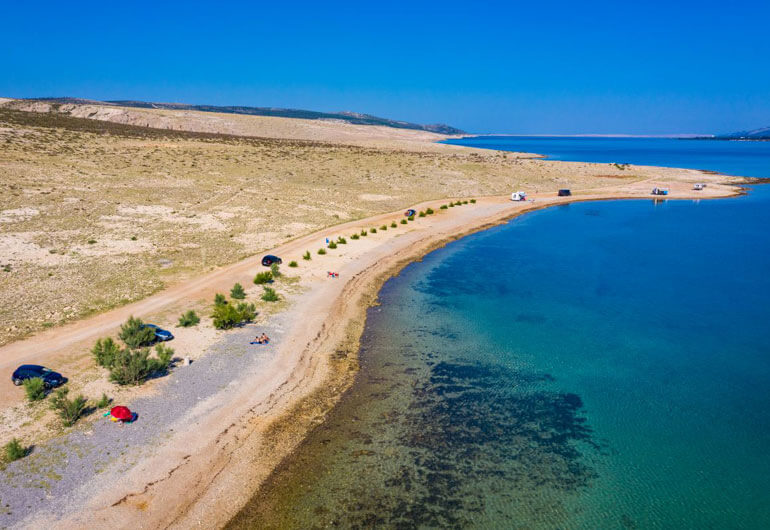 A five minute diversion off your route will take you to Rovanjska beach. As the motorway levels out take a right turn sign posted Rijeka and Obrovac. You will need to pass through the exit toll booths. Keep straight on and after 900 metres turn right into an un-signposted local road that immediately bends sharp left and passes under the road you have just turned off. Continue straight for another 700 metres and you reach the sea. Turn left and park beside the beach and swim! There are two beach bars on the beach so you can get refreshments here as well.
Odmoriste Krka (the Krka Rest Place and restaurant)
The Krka Rest Place is no ordinary service station.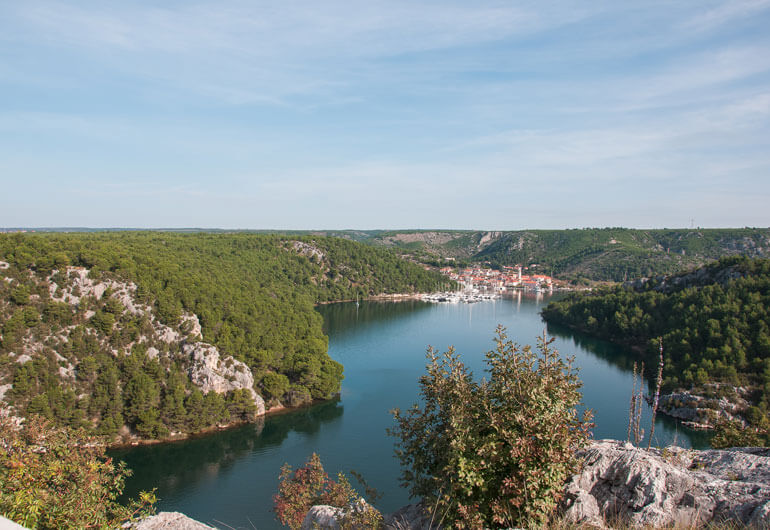 It is accessed directly from the motorway but does not provide petrol. It is a restaurant in a spectacular location with views over the river that runs through a deep gorge up to the town of Skradin and the
Krka waterfalls national park
. But don't just stop for the view. Plan to arrive here when you are well and truly hungry and order the freshly roasted pork, veal or lamb. It comes in great chunks of meat served with heaps of gorgeous roast potatoes. If approaching from the north, park in the car park and walk through the pedestrian tunnel to the restaurant. This rest place is two hours 45 minutes' drive (285 km) from the Croatian border at Metlika and just over three hours (275 km from
Dubrovnik
).
Odmoriste Rascane Gornje
One hour further down the motorway and you will have the opportunity to stop at the Rest Place Rascane Gornje. Here you can get petrol but the reason to stop is the view and the delightful way the rest place has been arranged for picnics.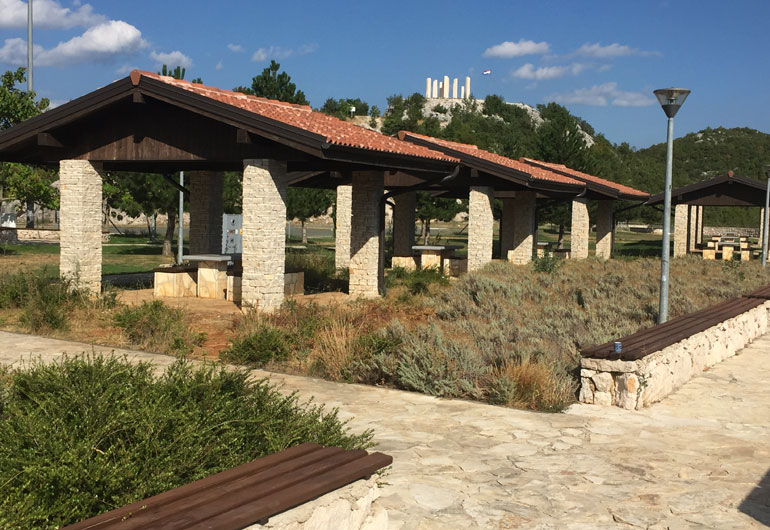 Park your car and walk through to one of the picnic tables each having its own tiled roof to provide shade or shelter depending on the weather. From this viewpoint the land falls away precipitously into a long deep valley with fields, farms and village house which seem as if they are miniatures neatly placed in the landscape. From this rest place you have two and half hours' drive (180 km) to
Dubrovnik
.
Travel Tips
Vignettes
Both Austria and Slovenia have a system whereby you need to buy a week or longer "vignette" pass to use their motorway systems. They will fine you heavily if you are found not to have a pass. If you stop at a service station in Germany within 20 or 30 km from the Austrian border you will be able to buy passes for both countries. It will probably pay to get a pass that will cover your return journey as well.
Delays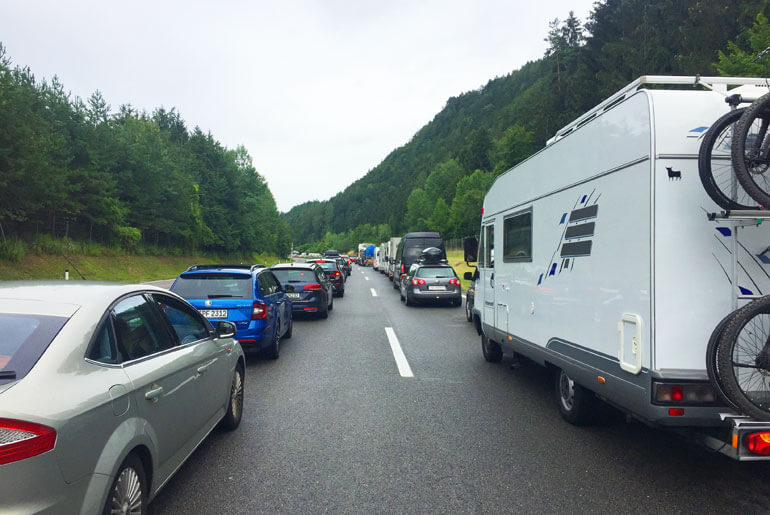 Roadworks -
Motorways roadworks can cause delays adding an hour or more to your journey. In 2020 German motorways seemed to be undergoing a lot or road works. We followed the advice of our satnav and when it suggested an alternative route to avoid motorway delays we took it. It may not have worked out any quicker than sitting in a queue on the motorway but it took us through some delightful back roads and villages and we discovered another aspect of Germany.
Toll booths -
There can be slight delays at the toll booths on motorways but generally not severe. Where a more severe delay can arise is at the toll for the 8 kilometre long Karavanke tunnel on the Austrian/Slovenian border. There are alternative routes if the delays are going to be severe so check your satnav or Google maps traffic directions to find if alternative routes are suggested.
Borders -
Austria into Slovenia and Slovenia into Croatia are the borders where you may experience delay. Delays are most likley to be severe on Saturdays when Italian and German holidaymakers drive down to Croatia. We will have to wait to see whether a no deal Brexit will cause delays in entering France and returning to the UK.
Brexit
With the UK out of the EU you will need a green card to show you have car insurance. Your insurance company should provide one on request. But arrange it in good time! You may also need to obtain an international driving licence as your UK licence will not be valid. Your passport must have at least six months until its expiry date.
**************************************************************************************************
If you are worried about COVID, unsure if flights will be reliable or just don't like airports and flying then do consider the option of driving to Croatia. It is perfectly possible and could end up being one of the high points of your holiday.
Check out our villa selections:
Family villas
Secluded villas
Beach front villas
Or search our full range of villas:
www.croatianvillaholidays.com