1. Dubrovnik - romance, mystery, indulgence, glamour and fabulous memories.
Dubrovnik
is one of the most romantic and beautiful cities in the world, it is a town alive day and night, and great to visit in winter. The generally mild winter climate means that on St Valentine's Day you could be walking through its famous main street "Stradun" in the Old Town and enjoying a cocktail in one of its cool bars, sitting outside in the sunshine or indoors, which is always cosy and inviting.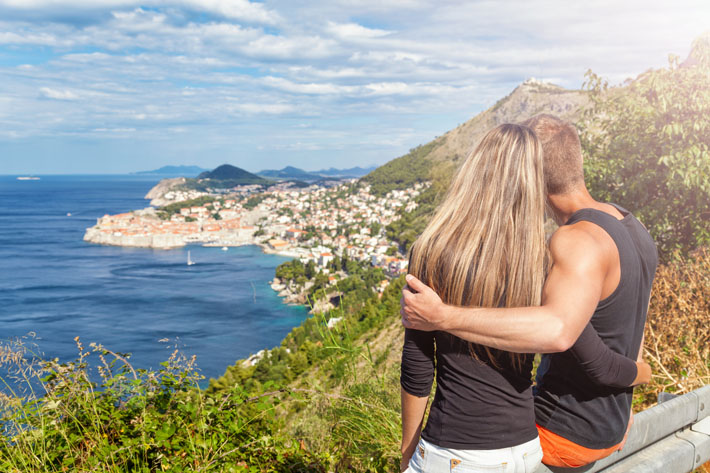 It is impossible to fully describe the special charm of
Dubrovnik
. You and your loved one must go and discover it for yourselves! If you can spare more than a long weekend, there is plenty to do in and around
Dubrovnik
in February to keep you busy and entertained for a full week or longer. Building up to St Valentine's Day there are Carnivals and Masques (5-9 February), and an incredibly important local festival of St Blaise, the patron saint of
Dubrovnik
(1-9 February). The City offers you a free guided tour of the Old Town with an English speaking guide (available 9 November to 28 March every Saturday morning).
You can treat yourselves to concerts, theatre performances, street plays, street food. Fun things happen all the time, many of them free. On St Valentine's you will find restaurants offering local fresh oysters, delicious sea food, truffle steaks and chocolate puddings, in the company of the gorgeous local white wine Posip, and a superb red called Dingac. Take an invigorating walk on a deserted beach, make a trip to the local
Elaphite islands
. Walk along the narrow cobbled streets and pick up a great piece of modern jewellery and other gifts, visit the Troubadour Jazz Cafe which plays jazz every evening, join there in the dancing and general fun, looking at
Dubrovnik's
magnificent cathedral. Take the cable car up the Srdj mountain and take refreshment or eat in the restaurant looking out over the most romantic sea scape and sunset you will ever see…the place for memorable photos!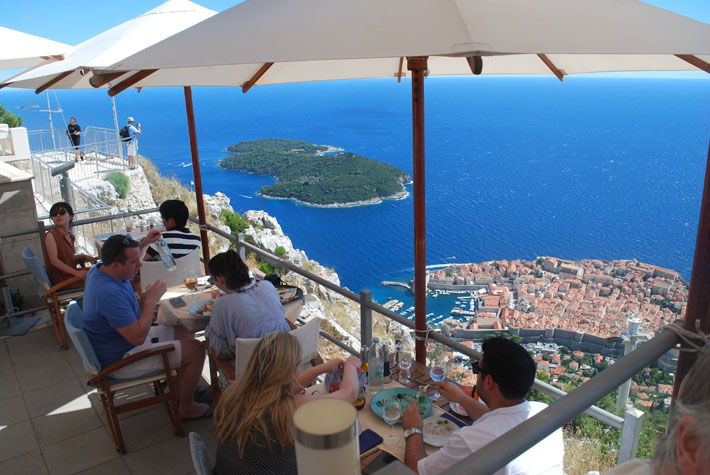 Much of Game of Thrones was filmed in or around
Dubrovnik
. Many of the scenes for King's Landing were filmed there such as the Red Keep and the Walk of Shame. A few kilometres out of town Trsteno Arboretum was the setting for High Garden. We can arrange private guided tours of the Game of Thrones sites and tours covering
Dubrovnik
history. See our
tours page
. Do not miss out a walk on the magnificent walls and towers of
Dubrovnik Old Town
. Climb up to Fort Lovrijenac for a spectacular view down on the roof tops of old
Dubrovnik
.
Every bistro, cafe, tavern or smart restaurant is wonderful in
Dubrovnik
, here are just some of our recommendations for that special St Valentine's day dinner or sunset cocktail:
Restaurant Nautika; overlooking the sea and the towering Fort Lovrinac.
Orsan Restaurant; in the sailing club in Gruz harbour. Great food and waterside location away from the main tourist crowds.
360 restaurant; a Michelin star restaurant on the city walls.
Cafe Bar Luci; the oldest within the City walls.
Cave bar More; an atmospheric cocktail bar carved out of the cliffs on the Lapad peninsular.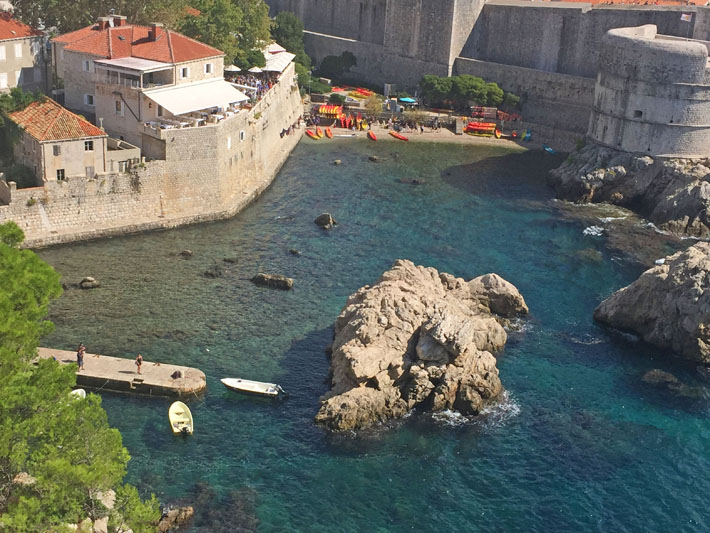 If you are staying longer, why not make a trip to the gorgeous
Peljesac Peninsula
west of
Dubrovnik
, where you can visit the breathtaking small towns and villages, such as
Ston and Mali Ston
, the oyster capitals of Croatia, about 45 minute drive from
Dubrovnik
. Since Roman times oysters have been grown in
Mali Ston
Bay and in March, they hold an Oyster Festival. Or you can base yourselves in these magical and ancient places which excel in local seafood and have some of the most famous restaurants in the whole region. Our favourites are family run restaurants Kapetanova Kuca (Captain's House) and Bota Sare in
Mali Ston
and great value home cooking at Bacchus in
Ston
. To complete your gourmet experience, visit one or several famous
Peljesac
wineries, which offer wine tastings with a video talk about their wines. We recommend Milos Winery in Ponikve.
Our favourite Valentine villas or apartments in or near Dubrovnik are:
2. Opatija - the grand old lady of chocolates, spas and seaside walks
Opatija
has been a most beloved summer resort of Croatian people for over a hundred years. Elegant hotels and beautiful villas line the wooded coastline, the parks are beautiful and fabulous restaurants abound.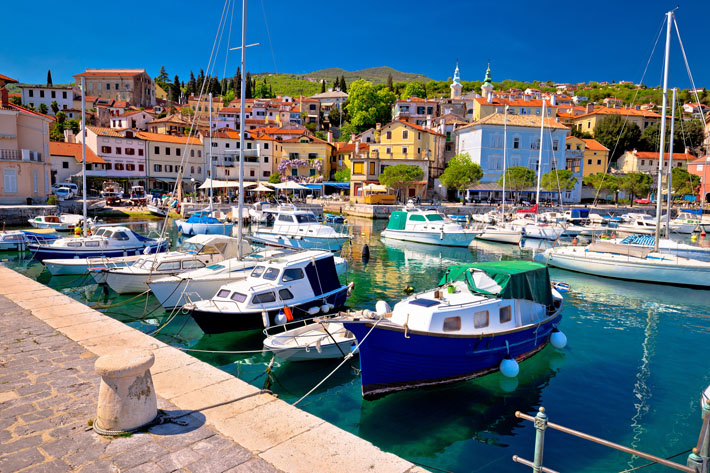 All over the place are cafes and chocolate shops, reminiscent of Austrian confectionery. Austrian nobility of the 19th and 20th century was the first to discover this amazing Adriatic spot and turn it into a Mediterranean spa paradise. Today
Opatija
has all one can imagine for a perfect winter holiday and a great experience on St Valentine's day. In February, you can enjoy Croatia's largest Carnival in the nearby city of Rijeka which will be a European city of culture in 2020. Rijeka is great for shopping and musicals.
Opatija
town puts on a great music programme for St Valentine's day.
Zagreb's
Symphony Orchestra is there to play famous pieces of classical music, there is a Jazz orchestra and also other shows to see. The food is exquisite. Visit the restaurants Tramerka or Plavi Podrum by the sea in Volosko, the atmospheric Villa Losca, Restaurant Molo and many others. You can have a romantic evening by a huge fireplace in a restaurant grilling your perfect steak on the fire, or sit in a seafront restaurant enjoying the view and great local sea food. The local wines are excellent. Try the famous Malvazija (white), or a great red Merlot or Cabernet Sauvignon. If you have a sweet tooth, we recommend some fantastic cafes: Kaokakao, Cafe Wagner, Choco Bar to start you off - delicious coffee, fabulous cakes, chocolate everywhere, a real treat and celebration. After all this, take a most romantic walk along the sea, 12km between
Opatija
and
Lovran
known as Lungo Mare, a road to health and happiness.
Our suggested romantic villas in or near Opatija are
Villa Zuzi
Villa Marron
Villa Contessa
Villa Sansa
3. Rovinj - picturesque Venetian town with arty people, great cuisine and friendly bars
Rovinj
, an old Venice like town on a sea promontory in Istria, rates very high on our list of romantic places to spend St Valentine's Day. The town itself is utterly charming with narrow streets leading you up to St Euphemia church, from where you can see across the Adriatic to Venice. Gift shops, art galleries and jewellery shops line the way, interspersed with wonderful restaurants and taverns serving delicious local winter fare - chops or sausages with sauerkraut, home made pasta with truffles, prosciutto ham, venison stew with polenta, octopus salad, grilled squid.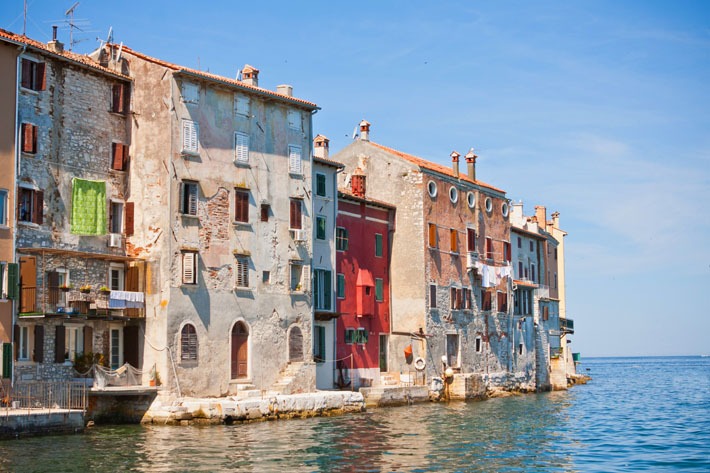 You will come to the famous landmark in
Rovinj
, the seaside bar Valentino for cocktails by the sea, or visit Café Bar Batel in the old town of
Rovinj
where you get the best coffee in town, great Cuba libres and mojitos, plus music. The restaurants are many, try the famous Monte or enjoy the food and magnificent sea views in Puntulina. Eat by the sea in the restaurant Blu and take in the view of
Rovinj
- unforgettable. The whole of
Istria
is for you to visit, such as the hilltop towns of
Motovun
, Groznjan and
Oprtalj
, the wineries of Kozlovic and Kabola, the historic town of
Pula
with a Roman amphitheatre and many more romantic places and top restaurants. Why not stay a week?
Our suggested villas for a romantic getaway or a longer break
Villa Lanterna
Casa Celestina
Casa della Vigna
Villa Zamara
Villa Merlot
Castle Beach
4. Split - antique grandeur mixed with the love of life and friendliness of the locals
Split
, Croatia's second city, is located on the site where the Roman Emperor Diocletian chose to build his retirement home. Some home! It was a magnificent palace right on the Adriatic shoreline. Over the centuries the original Roman structures were adapted and blended into the later medieval city which grew out of Diocletian's Palace and is today the living heart of
Split
city centre.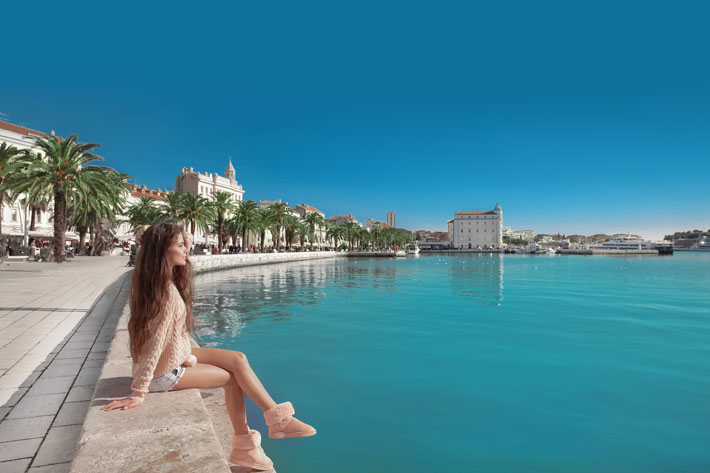 The result is a wonderful eclectic blend of architectures and a vibrant and romantic city for all seasons. Chose
Split
for your Valentine holiday and you will not be disappointed. The whole place is one beautiful, vibrant town where history and romance meet you at every corner. The 1700 year old Diocletian's Palace is a must while the Roman Forum and the Riva, the wide waterfront promenade, are perfect settings to enjoy the February sunshine with an excellent espresso and a pastry or a cocktail. Take a romantic, leisurely walk in the famous local park Marjan and visit the local beaches. There are so many good restaurants where you can eat. We can mention the traditional and romantic looking seafood and steak restaurant Nostromo, rustic restaurant Stari Mornar attached to the sailing club and Bokeria with ingredients supplied from the local produce and fish markets. The cuisine is essentially Mediterranean, from excellent vegetable concoctions to bruschetta to seafood, all the way up to steaks There are theme nights, and occasional smooth live music, mostly jazz.
If you are staying longer, do hop over to
Supetar
on the
island of Brac
to get an island experience, ferries go frequently.
Villas and Boutique hotels we rate for a romantic escape to
Split
are:
Villa Davorka
Villa Grand Palms
For hotels in or close to the heart of the City we suggest Hotel President and Hotel Peristil.
5. Trogir-Splendour of Medieval Palaces, a UNESCO site and gourmet experience
Not far from
Split
is the smaller, historic town of
Trogir
, a perfect little gem for St Valentine's day. It is a UNESCO protected historic site with all of the ancient town a compact network of medieval squares and narrow cobbled streets, wooden shutters and cosy restaurants and cafes. Just to be in
Trogir
is a delight.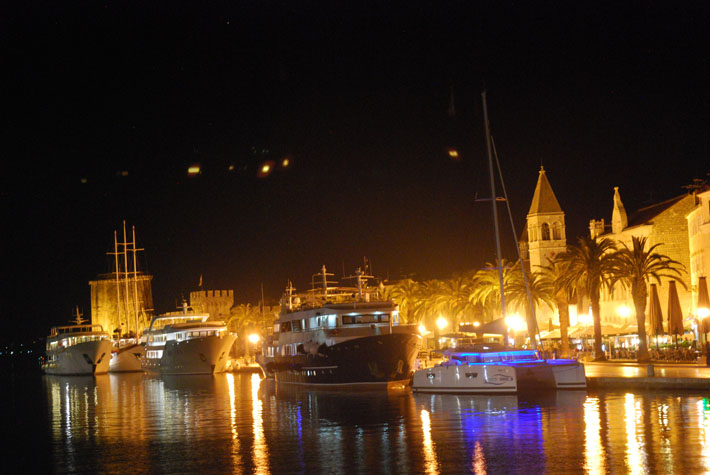 One of the best restaurants is the long established Alka, with superb Mediterranean cuisine. We also recommend restaurant Don Dino and Calebotta. Along the harbour, you will find friendly pizzerias and enjoy excellent local beer and coffee. As a special treat for St Valentine's, book a boat tour to the
island of Hvar
and explore that amazing old and romantic town and numerous crystal clear coves of great natural beauty.
For a shot stay in
Trogir
we recommend
Brown Beach Boutique hotel
which is just a short walk to the centre.
Or for a larger group
Villa Sabbion
6. Plitvice lakes-winter wonderland of world class proportions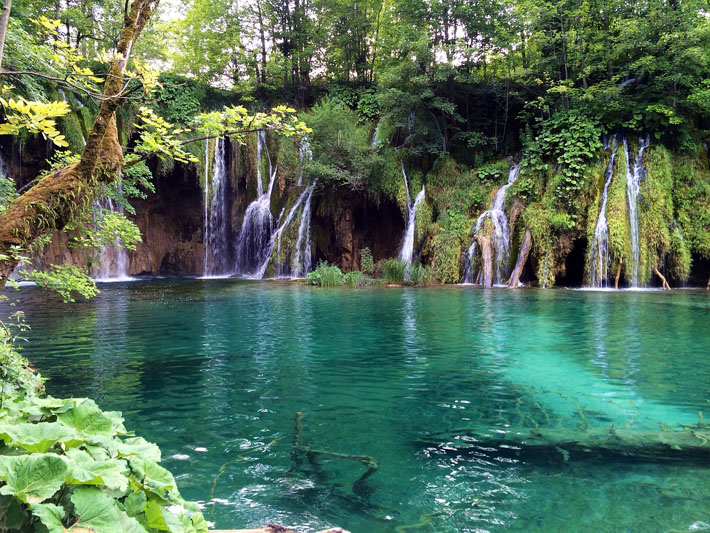 Those who love exceptional natural beauty will adore the Plitvice Lakes National Park.

In winter time the lakes - there are sixteen of them - and their magnificent waterfalls can be frozen, which present you with a dreamy, fairy tale scene. In warmer winters the waterfalls are flowing and the lakes merge into one another cascading down the mountain landscape. In summer it is so crowded there, as people from all over the world come to see this nature wonder. In winter, all that space is yours to explore. Relax by the fireplace of the new Fenomen Hotel and enjoy the spa. Sample the hearty local cuisine in the restaurant Licka Kuca, such as roast venison, lamb under the "bell" (known as peka), baked sausage in sour cabbage, air dried ham, cheese, trout, cream cheese or apple strudels.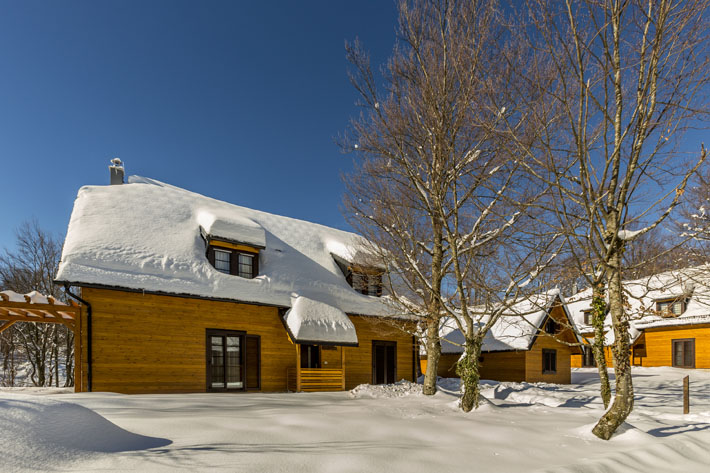 The focal point of the restaurant is a huge open fireplace with a whole lamb roasted on a spit, an absolute must for meat lovers.

For accommodation adjoining or close to the national park we recommend
Villa Lakeland Belle
Hotel Fenomen
Villa Lakeland Orchard




7. Zagreb - February is the sweetest month!
Zagreb
, a little Vienna! This beautiful, almost cosy town is the capital of Croatia, situated inland and brimming with continental culture, history, fresh food and flower markets, museums, galleries, theatres, innumerable coffee and sumptuous cake shops, parks with live music, romantic tram rides and a little funicular which takes you to the medieval "upper town" where everything is old and romantic, including the street lights.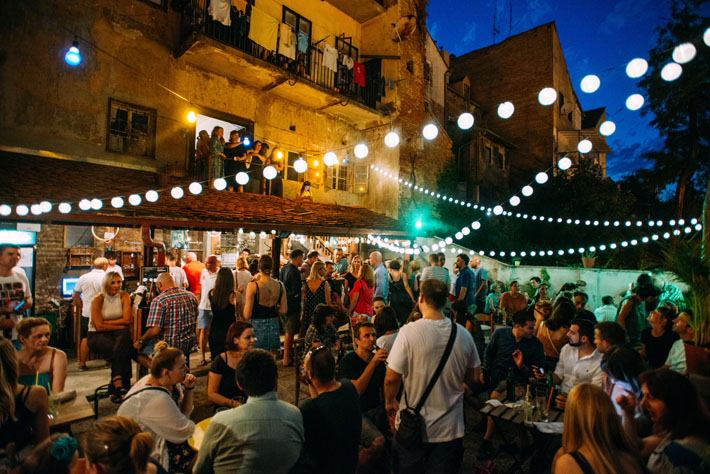 As you walk through the upper town, look down to the magnificent old roofs of the old
Zagreb
centre below, it is unforgettable. For three years running
Zagreb
has been awarded the best Christmas Market in Europe award. In February, the same spirit of fun and adventure continues. In
Zagreb
February is the sweetest month. Obligatory fresh, feather light donuts are sold everywhere, and boxes of chocolates are flying out of the window. The most iconic and delicious Croatian chocolate product is a box of Bajadera - share it with each other and take some home with you. Mid February is also the time for coffee and chocolate festival - the Chocofest, when
Zagreb's
cafe society comes into its own. You will be able to sample fantastic regional chocolate products, the best coffees and take part in workshops on chocolate. A guided tour is the best way to get to know the city. "Zagreb in Love" is a romantic, free guided tour through
Zagreb
, where you will also hear some of the best love stories set in the city. It starts at 11am on 14th February, from the Ban Jelacic Square. Guide is Dora Fila Butković, mobile :00385 91 2512 336. Or book an evening tour of the Old Upper Town
Book in advance
. Start from Ban Jelacic Square in front of Tourist Information Centre.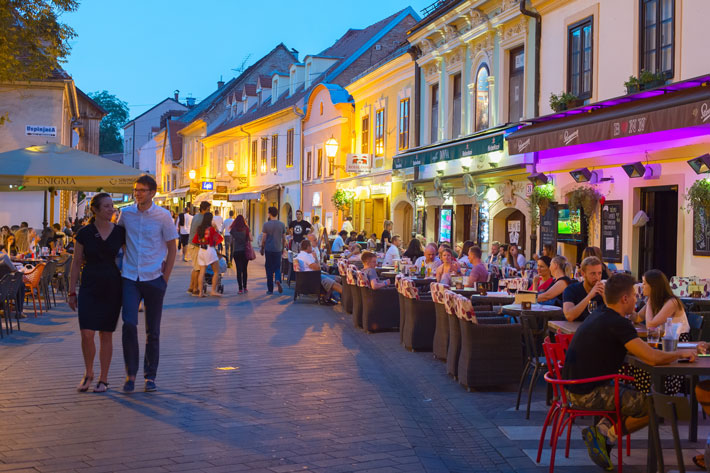 Our favourite restaurants if you wish to splurge are Apetit, Zinfandel and Dubravkin Put. There are hundreds of fantastic restaurants in town, amongst which we value Purger for home style cooking, and a series of bistros and beer halls in a lovely old street Tkalciceva.
For accommodation with a suitably romantic atmosphere and close to the centre of town we recommend Hotel Jägerhorn. Since 1827 the Jägerhorn has established itself as a social and cultural icon of
Zagreb
and it is the oldest standing hotel in the city with a truly privileged location on Ilica Street, only a stone's throw away from
Zagreb's
main sights, landmarks, churches, restaurants, museums and galleries. The hotel was refurbished in 2015 with the comfort and convenience of its guests at the forefront.
8. Zadar - old town, young vibes, most romantic sunsets
Zadar
is a vibrant seaside town which combines the old with the new. You will find important early Christian churches, Venetian palaces, renaissance squares, but also hip new bars and restaurants, great sandy beaches, a sea organ playing music and the celebration of the sunrise in town. For St Valentine's Day the shop windows and restaurants are competing for red hearts and playing romantic music.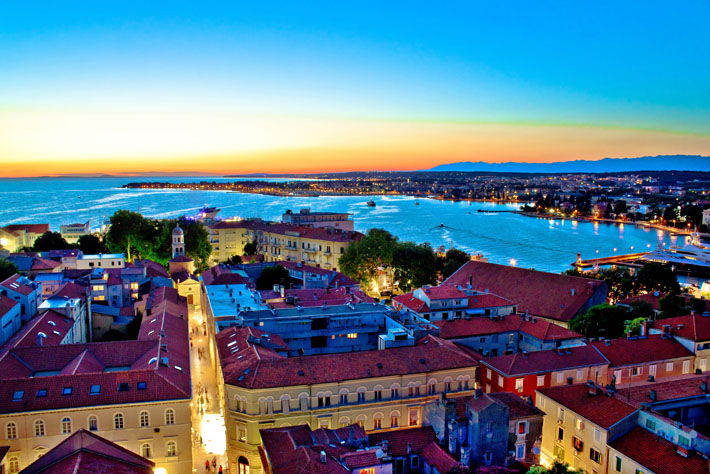 One especially romantic thing you can only experience in
Zadar
is listening to the music of the Sea Organ on the beach and seeing the Greeting to the Sun. Kalelarga is the main street where
Zadar
locals, who are very friendly, meet and enjoy drinks, exchanging stories, falling in and out of love. This famous street, it is said existed before
Zadar
was born.
Zadar
even has its own liqueur - the Maraschino made of local plentiful cherries. It will be a base for a most romantic St Valentine's cocktail or drink it by itself - delicious!
Zadar
sunset on a clear day is an especially spectacular and romantic experience that will make Valentine's day a memorable experience for you. If you want to party through the night, attempt a
Zadar
Chewbacca pub crawl. For a gourmet evening out, Michelin guide recommends restaurants Fosa and Kastel, while Mamma Mia is great for pizzas and Dva Ribara (The Two Fishermen) for fish.
Zadar
celebrates Valentine's Day in a very special way and the event has become a tradition. A few thousand people gather at the Forum to release lanterns into the sky and think of a love wish. Indeed, love certainly is in the air on Valentine's Day in
Zadar
.
For a short break in the heart of the City we recomemnd Art Hotel Kalelarga,
For larger groups and longer stays
browse our villas in the Zadar region
.
9. Sibenik-grand but understated, gourmet paradise
Sibenik
is a beautiful, somewhat understated town on the Adriatic coast of
central Dalmatia
. If you are after a beautiful, cultured place where you can wine and dine your beloved,
Sibenik
is just the ticket. It boasts a gorgeous restaurant Pelegrini, which has earned a Michelin star.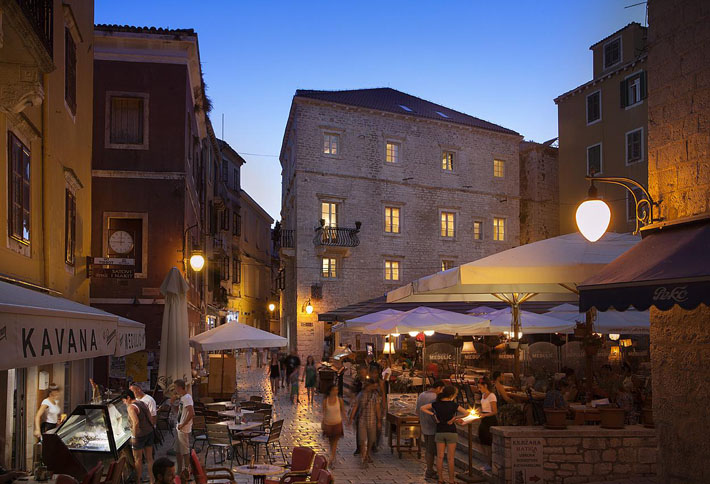 Eating a most delicious meal and drinking fantastic Croatian wine, you will look at the magnificent view of
Sibenik's
medieval cathedral of St James. A few kilometres out of the City takes to the
Krka National Park
where you can take boat trips across the lakes and follow walking trails through the wooded slopes surrounding the waterfalls.
For accommodation in Sibenik we recommend:
Life Palace Boutique Hotel
a tastefully renovated historic building in the heart of the City.
Or for a romantic villa midway between the
Krka National Park
and
Sibenik
centre:
Villas
Girondella Large
and
Girondella Small
.
10. Island of Hvar - Royalty and Hollywood meet in Croatia's sunniest island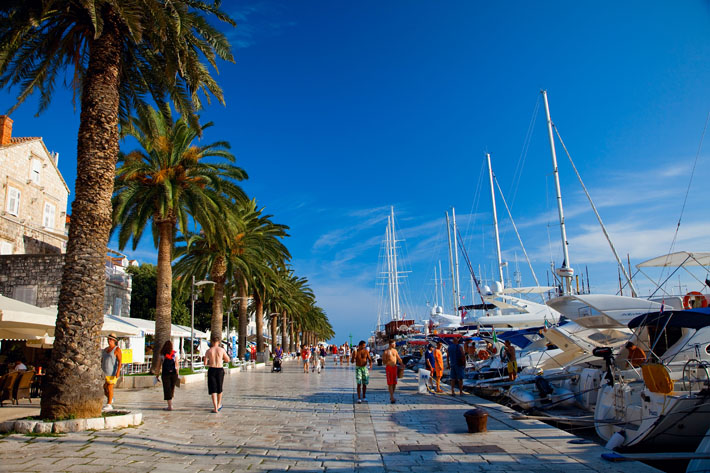 Everyone in the know will confirm that the
island of Hvar
is the place with most sunny days in Croatia. You can have 25 and more sunny days in February.
Where ever you turn in historic
Hvar town
there is a perfect photo to be taken. You will want to capture the elegant architecture, the stunning main square surrounded by cafes and the lively Riva, the broad promenade beside the harbour where the cocktail bars, ice cream parlours and the best restaurants jostle for space.
There is lots to see on the rest of
Hvar island
. For St. Valentine's Day visit the restaurant Me and Mrs Jones in the charming harbour town of
Jelsa
, a romantic place with excellent food. Combine this with an Olive Oil tour on the island or consider a boat trip to the nearby
Pakleni islands
.
Browse our
villas on Hvar
for a range of accommodation options.